2014.01.26
Metallica planning to start work on new album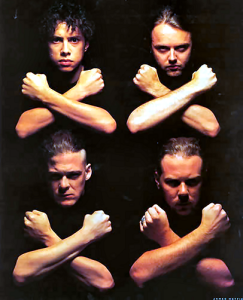 Metallica guitarist Kirk Hammett says the band will start working on material for a new album "in a couple of weeks."

"When we start, that's going to be our main priority," Hammett tells Billboard, "and we're pretty excited about it because we've been saying we need to start working on this album, but we've been procrastinating greatly with it. We've pretty much come up with every sort of excuse we can not to start work on the album, but we've run out of excuses, so we pretty much have to start work on it now."

Some of the foot-dragging, Hammett says, is the idea of facing a plethora of musical ideas the group has assembled.

[Read More]
2014.01.16
Rock on the Range 2014 Lineup: Guns N' Roses, Avenged Sevenfold, Slayer, Kid Rock & More
Weekend passes go on sale Jan. 24 at 10 a.m. ET. For more, visit the Rock on the Range site.

Full Rock on the Range 2014 Lineup:
Guns N' Roses, Avenged Sevenfold, Kid Rock, Five Finger Death Punch, Slayer, Staind, Motorhead, Seether, Chevelle, Alter Bridge, Mastodon, Black Label Society, Killswitch Engage, Bring Me The Horizon, Theory of a Deadman, Down, Black Stone Cherry, Jason Bonham's Led Zeppelin Experience, Pop Evil, Of Mice & Men, Adelitas Way, Trivium, Gojira, Suicidal Tendencies, The Pretty Reckless, We Came as Romans, Fuel, Redlight King, Miss May I, Reignwolf, Thousand Foot Krutch, Texas Hippie Coalition, Rev Theory, Skindred, Kyng, Fozzy, Heaven's Basement, Butcher Babies, Nothing More, Exodus, King 810, Devour the Day, We As Human, We Are Harlot, Kvelertak, Jim Breuer Band, One OK Rock, Twelve Foot Ninja, Avatar, WERM, Monster Truck, Wilson, Crobot and Truckfighters with comedians Jim Breuer, Jim Florentine and more.
2014.01.16
Live: The Eagles Glide Through the Years at L.A. Forum Revival Show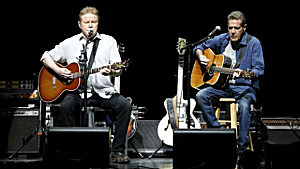 They call it classic rock for a reason.
Last night (Jan. 15), Don Henley, Glenn Frey, Joe Walsh and the Eagles glided through the band's long history of music with an epic three-hour show to commemorate the relaunch of legendary Los Angeles concert venue, the Forum.
The time-worn harmonies and even the group's signature melodic guitar solos of yore are deeply ingrained in the subconscious of anyone who's spent any time with legacy rock radio.
From its launch in 1967 through the '90s, the L.A. Forum was the city's premiere arena, the longtime home to championship NBA franchise the Lakers that also played host to an impressive list of music titans, including Elvis Presley, Jimi Hendrix, Nirvana and Led Zeppelin.
2014.01.16
VIDEO: The Scorpions release Holiday from MTV Unplugged set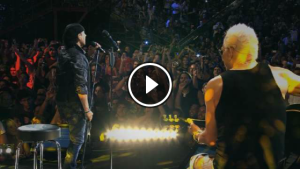 The Scorpions have released a video of "Holiday" from their MTV Unplugged concerts in Athens last fall.

Last month, the band released "MTV Unplugged - Scorpions Live In Athens" in Europe; it was compiled from three concerts in Athens, Greece at the city's Lycabettus Theatre.

Set for release next Tuesday, January 21 in North America, the package features a mix of classic Scorpions tracks and new material.

The German rockers begin their 2014 live dates on March 7 in Madrid, Spain.
2014.01.16
VIDEO: Motorhead released Aftershock press package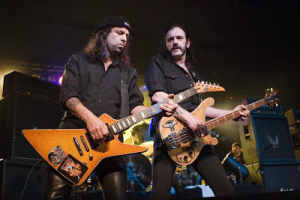 Motorhead have released an Electronic Press Kit (EPK) for their latest album, "Aftershock."

The footage features music from the album as well as portions of Lemmy's fall 2013 interview on Rockline with Bob Coburn.

The bassist shares stories about the album, his days as a roadie for Jimi Hendrix, and gives fans an update on his health at the time; Lemmy's issues caused the postponement of the band's fall European tour, which is now set to start February 13 in Glasgow, Scotland.

For a list of the rescheduled European tour dates, click here.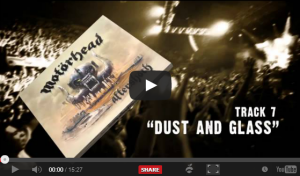 "Aftershock" scored the band's highest US chart position in Motorhead's career, debuting at No. 22 on the Billboard 200 with opening week sales of 11,000 copies.
2014.01.17
Video: Saxon – The Eagle Has Landed (orchestral)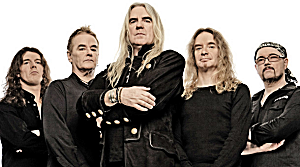 Saxon have released a lyric video for their orchestral version of classic track The Eagle Has Landed – view it below.

It's taken from rework album Unplugged And Strung Up, which was released in November.

The band say: "We re-evaluated, reworked and re-energised the likes of The Eagle Has Landed and Crusader by introducing orchestral dynamics to offer an added dimension."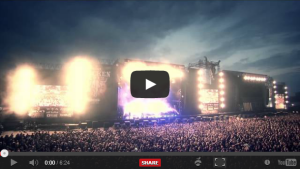 Tracklist
01. Stallions Of The highway (Remix)
02. Crusader (Orchestral version)
03. Battle Cry
04. The Eagle Has Landed (orchestral version)
05. Red Star Falling (orchestral version)
06. Broken Heroes (orchestral version)
07. Call To Arms (orchestral version)
08. Militia Guard
09. Forever Free (Re-recorded version)
10. Just Let Me Rock (Re-recorded version)
11. Frozen Rainbow (Acoustic version)
12. Iron Wheels (live acoustic version)
13. Requiem (Acoustic version)
14. Coming Home (acoustic version)